Passengers of the Sharm el-Sheikh flight in Zaporizhzhya airport are surprised when I cut the line at the customs and enter the departure lounge without tickets or any inspection together with two other representatives of the National Preventive Mechanism (NPM)
Passengers of the Sharm el-Sheikh flight in Zaporizhzhya airport are surprised when I cut the line at the customs and enter the departure lounge without tickets or any inspection together with two other representatives of the National Preventive Mechanism (NPM)
Being a new NPM monitor, I am also surprised, yet I understand the scope of unlimited access to places of detention. Yes, the departure lounge at Zaporizhzhya airport is one of the six thousand places of detention in Ukraine.
Quite often, the first thing you think of when hearing about places of detention is a correctional facility or a remand prison. These places are very diverse though, including, among others, military bases, orphanages, psychiatric hospitals, and hospices.
Dating back to the Soviet times, there were attempts to hide these facilities as far away as possible from big cities, to put fences and signs saying "specialized" or "psychiatric" on places of detention to segregate people with disabilities and other vulnerable groups. Sociologists from Kharkiv Institute of Social Research estimated that an average distance from neuropsychological boarding facilities to regional centers is 83 kilometers.
In order to realize how many citizens of Ukraine end up in places with restricted access annually, imagine Zhytomyr region. Precisely 1 283 573 people have been to these places in 2014.
Time passes, however, life in these facilities has frozen, and people in custody often face treatment that is borderline cruel. The NPM monitors have been preventing this ill-treatment with their visits for four years now.
̶n̶o̶t̶ ̶welcome to Ukraine
I find it easy to measure violations of human dignity or ill-treatment. I sat down on a bench in the basement cell for defendants in the Court of Appeals of Chernihiv region and realized that the walls are preventing me from breathing normally even psychologically. Of course! How would you feel locked in a box with a floor space less than a square meter? It is hard to forget the elderly family members when you see a person with bed sores or on dirty sheets at the neuropsychological boarding facility. You cannot agree with the facility staff who say that daily labor from morning till 7-8pm is work therapy. You are speechless when you hear that a 40-year old woman spends her entire life in a wheelchair as there is not even a bed in her room.
Ill-treatment is clearly recognizable in Zaporizhzhya airport after examination of the facilities, inspection of documents, and communication with many staff members.
There is no access to hot meals. A foreigner who was banned from entering Ukraine by the border guards and who is under the state custody can only afford alcohol and sandwiches. If the person wants to sleep, s/he will have to do that on iron benches.
S/he will not find a payphone, ATM or currency exchange at the departure lounge while waiting for the next flight in these conditions may take 17 hours.
Last year, border guards banned 24 foreigners from entering Ukraine through this air gateway.
More than training
This visit to the airport was one of the eight monitoring visits to places with restricted access fro NPM monitors. The visits took place in the framework of the year-long cluster trainings supported by the International Renaissance Foundation.
"Only strong and capable community of monitors can be a reliable partner for the Ombudsman in the NPM implementation process, as well as visit an extremely large number of places of detention in Ukraine. Therefore, we are constantly discovering new forms of engagement, particularly, on the regional level, with the local communities who care about the people in places of detention nearby and foster activism in support of joining the NPM monitors¨, says Roman Romanov, Director of the Human Rights and Justice Program Initiative of the International Renaissance Foundation.
In early 2015, active NPM members were searching for ways of independent organization and functioning of the community. They suggested an idea of cluster meetings and trainings, which was supported by the Office of the Ukrainian Parliament Human Rights Commissioner.
Now, monitors from across Ukraine and the Ombudsman's representatives gather in different regions and improve their skills while conducting group visits to different places of detention.
"What we do is not simply a monitoring visit, but also a wake-up call for a huge number of facilities in the region", says Vira Yakovenko, a member of the NPM monitors initiative group from Poltava. "Simultaneous visits to 9-10 facilities in the region are more effective than single inspections. We show that NPM is here, it is working and will continue to work".
NPM members note that cluster meetings helped solve the problem of unequal number of monitors in different regions. For instance, there are two monitors in Dnipropetrovsk and Khmelnytsky regions compared to approximately 20 monitors in Kyiv and Kyiv region.
"The cluster system facilitates internal communication of the monitors in the region, increases their mobilities, and helps develop the NPM in general. Self-organization of monitors in clusters has grown into a process of establishing the organization of monitors in Ukraine. It is a great outcome of the year of activities under the cluster principle", notes Maryna Homenyuk, a member of the NPM monitors initiative group from Lviv.
During these trainings, activists learn about different types of detention facilities, international standards on detention, and communication with the media. In theory and practice, they use methods for collecting information from different categories of persons in places of detention.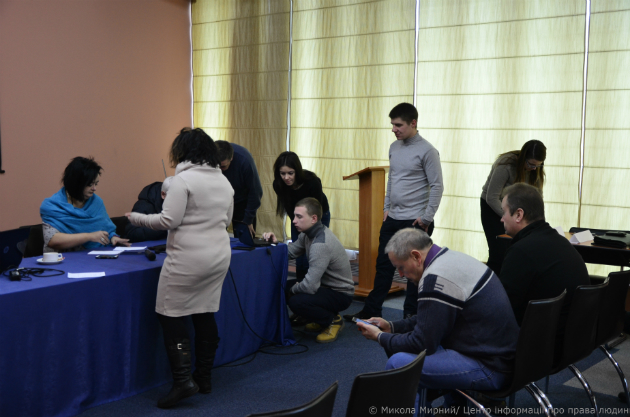 Before a visit to Zaporizhzhya regional tuberculosis dispensary, Olena Temchenko from the NPM Department explains why the visit is necessary,
"The rights of people are least protected when they are in facilities under the jurisdiction of two governmental agencies"
As an example, she talks about conditions of detention of tuberculosis patients in Khmelnytsky regional TB dispensary, "This hospital has decent quality of medical treatment. However, the section for detained persons has real remand prison cells. Often, the windows are partially immured. The dirt is the worst part since it poses a real threat to the patients. Even sweeping is not acceptable in these situations, only wet cleaning is allowed", recalls Olena Temchenko. "We will see what we find in Zaporizhzhya".
"Prevent torture – become a monitor"
In addition to inspecting conditions of detention of tuberculosis patients and the transit area of Zaporizhzhya international airport, the NPM monitoring groups visited six more facilities in the region. These facilities were Orikhiv correctional prison No. 88, Molochansk psychiatric hospital, Mykhailivsky neuropsychological boarding facility, a remand prison, rooms for temporarily detained persons of Zaporizhzhya regional military service division of the Armed Forces. They presented the monitoring results on the following day at a press conference for local journalists. For instance, they described how over 600 detainees at the prison no.88 are held in cells with average temperature of 11 degrees, forced to use their plates to drink tea in the absence of cups. They told how tuberculosis patients at Molochansk psychiatric hospital receive treatment while there is no tuberculosis specialist. They also mentioned the airport.
According to Kateryna Chumak, the acting Head of the NPM Department of the Secretariat of the Human Rights Commissioner, the publicity led to more people wanting to become monitors for the National Preventive Mechanism in the regions. "People hear about their region and understand how they can be help there. They feel empowered and interested", she says. In addition, it helps fixing the identified violations as soon as possible.
"In some cases, before we even getting back to Kyiv, we receive photographs and reports on cosmetic repairs, or moving people from crowded room, or other changes that allow for immediate improvement in conditions for people in closed institutions. Officials take action on the spot since they understand that they have visitors of the NPM Department of the Secretariat of the Human Rights Commissioner", says Kateryna Chumak. Moreover, media coverage helps change the situation even in those places of detention where the monitors have not been yet. It happened during training and visits in Chernihiv, Kryvyi Rih, and Chernivtsi. This year, cluster meetings of NPM monitors will take place in the same format.
However, most problems in places in detention are related to organizational structure and functioning. The purpose of regular NPM monitoring visits is to identify or prevent these problems. For now, there are approximately 100 monitors and staff of the NPM Department monitoring human rights observance in almost 6000 restricted-access facilities. Trainings for new NPM monitors are scheduled for March 2016.
Mykola Myrny, Human Rights Information Center