The International Renaissance Foundation (IRF) has reported transparently since it was launched over 26 years ago, the time when openness, transparency and accountability have not been the mainstream in Ukraine. We keep this tradition. Here is a summary of IRF's 2016 Annual Report.
What 2016 is remembered for?
Last year confirmed the presence of a strong community of activists, experts and new leaders who are ready to implement changes in policy-making and drive reforms – both in the society and in public institutions.
Last year we joined efforts with the government to implement the culture and practice of public policy, the kind of policy making in which decisions are designed and implemented in a way that is transparent and accountable to the society and inclusive for all stakeholders.
Hence, in 2016 IRF continued its active support to civic participation in the implementation of key reforms: of public administration and civil service, decentralization, healthcare, education, law enforcement and fighting corruption – at all levels, from designing to implementation and control.
This is only the beginning of a way towards a new culture of governance, based on principles of open society, where nobody has a monopoly on truth and different people have different opinions and interests. IRF appreciates the complexity of the tasks ahead and the strength of inertia of the old system that needs to be reformed step by step.
Moving on that way, we worked together with 263 civil society organizations to implement 450 projects all over Ukraine. Our total contribution to those projects exceeded UAH 176 million.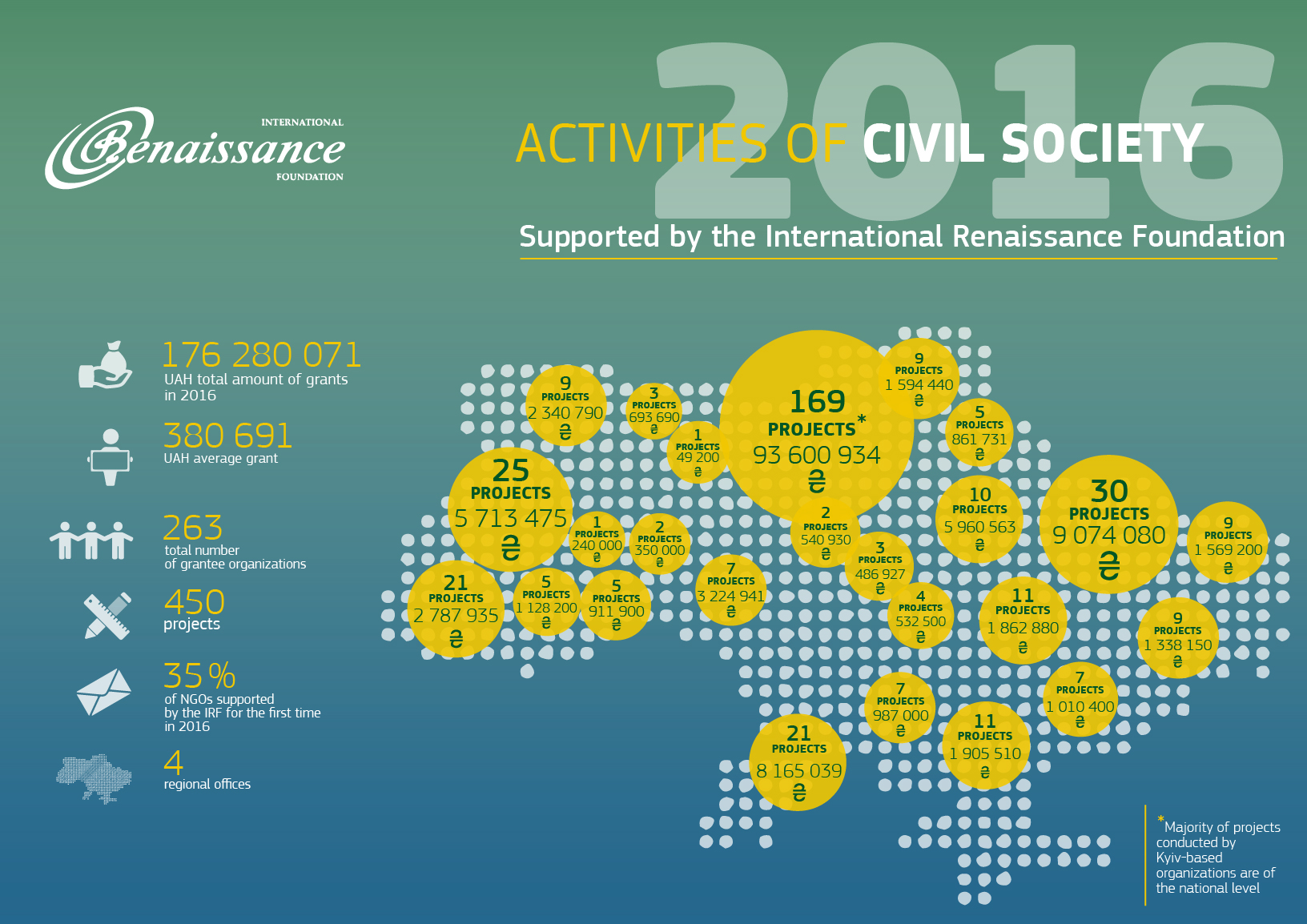 Infographics may be downloaded here.
Those 450 projects were implemented within IRF's six Program Initiatives and related thematic priorities:
Supporting reformers in the government through Strategic Advisory Groups;

Countering corruption and promoting transparency of public finance;

Support to the decentralization reform;

Support to the healthcare reform;

Support to the justice sector reform;

Protecting human rights;

European integration and international partnerships between experts;

Promoting peace and reintegration of people affected by the occupation of Crimea and the war in the Donbas;

Supporting civic activism of the Roma community.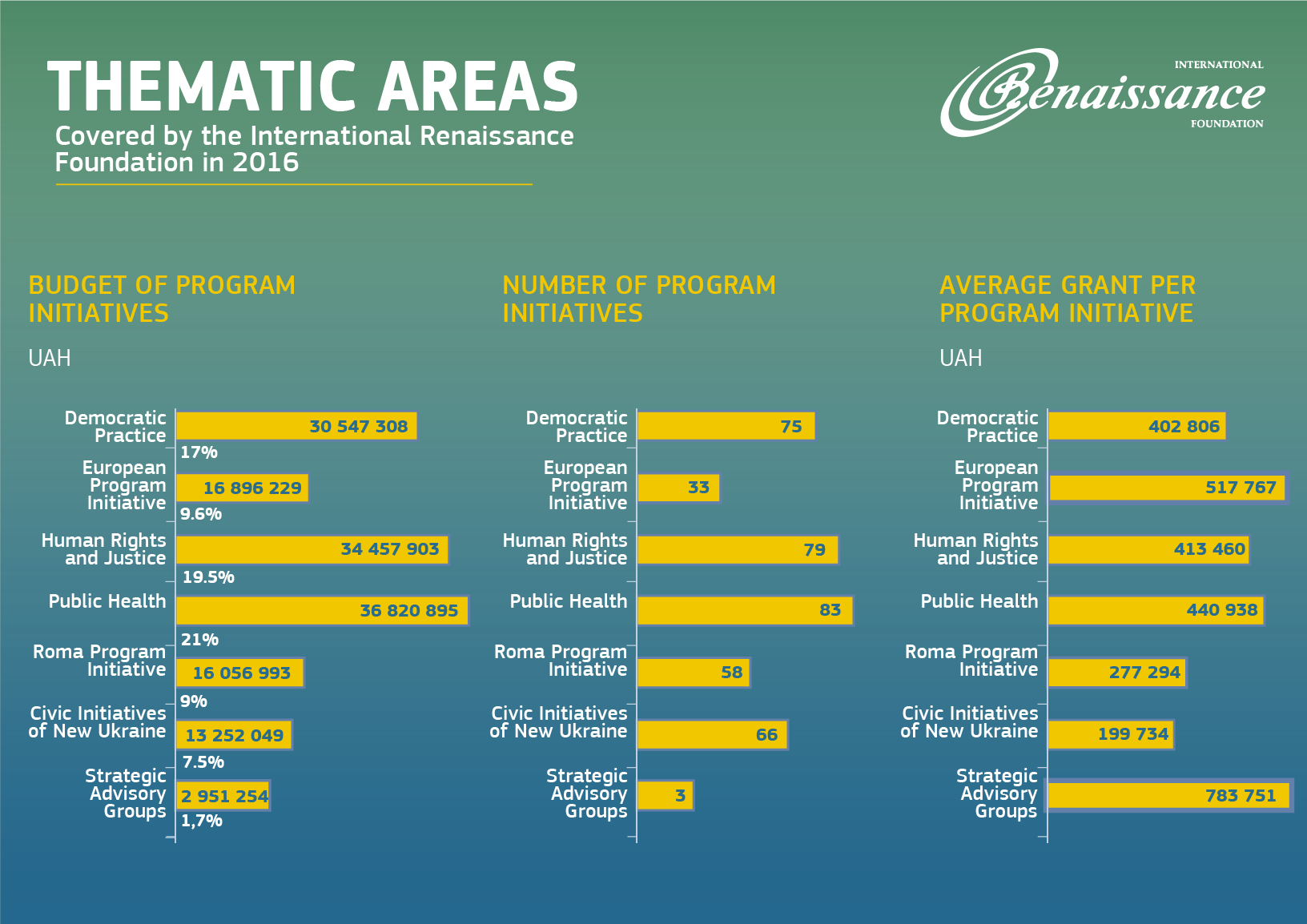 Infographics may be downloaded here.
Supporting reformers in the government
In April 2014, IRF Founder George Soros initiated the Strategic Advisory Groups that brought together task forces of experts that would bring new visions, best international experience and dynamism in the government's performance after the Revolution of Dignity.
The Strategic Advisory Groups (SAGs) had worked in a variety of key areas, including countering corruption, deregulation, decentralization, energy, education, healthcare and law enforcement. IRF's support to SAGs was planned for three years and wrapped up in 2016. Here are a few examples of what they have achieved.
SAG's engagement in the public administration and civil service reforms made a significant contribution to the adoption of the law «On Civil Service», competitions for recruiting new state secretaries, and the adoption of the Public Administration Reform Strategy that eventually became the foundation for an agreement on the European Union's budget support to Ukraine's public administration reform.
2016 saw massive implementation of the decentralization reform, improvement of legislation, and shaping governance bodies of amalgamated territorial communities.
The healthcare reform received a new impulse as the government approved a number of programmatic documents, based on earlier work of the Strategic Advisory Gorup, in the fall of 2016. Those included introducing the mechanism of reimbursement of cost of medicines, deregulation of registration of medicines, and developing a concept of access to health services through creating hospital districts in the context of the decentralization reform.
Countering corruption and promoting transparency of public finance
When the country's checks-and-balances system is still weak and there is still an open conflict between agents of change and defenders of the status quo, civil society should take the responsibility of the watchdog of democratic reforms. The Foundation has supported many such initiatives. Here are a few examples.
An anti-corruption IT project, 007 Search and Analytics System, analyzes publicly open data about budget transactions. With 077, everyone can find out how much the state has payed for specific works and services, what opportunities are there to make new contracts, what connections could be made between payments and procurement bidding, and how the cash flows can be visualized.
The Party Cash, a portal that monitors the political parties' financing, sponsors, assets, incomes, expenditures and so on, reported some 500 cases of violation of the law by the six political parties currently represented in the nation's Parliament.
Investigative journalism that IRF continued to support in 2016 helped prevent or stop the authorities' wrongdoings and launch formal investigations. Following TV stories by "Our Money with Denys Bigus TV program, the Supreme Economic Court overturned the privatization of two buildings of the Ministry of Education and Science in the center of Kiev. The Antimonopoly Committee imposed a fine of UAH 431 million on a tobacco monopoly, and the Specialized Anti-Corruption Prosecutor's Office investigates the illegal enrichment of Igor Demidov, Deputy Chief of the Investigation Department of Kyiv Prosecutor's Office.
Support to the decentralization reform
The decentralization reform is one of the most complex as it is linked with healthcare, education, taxation and many other areas. The reform resulted in devolving more powers to local communities that traditionally were used to having all those issues being addressed for them by "the center". Now they face major challenges to understand the legislation and learn to take political and fiscal responsibility for delivering to their communities.
To support the implementation of laws on voluntary amalgamation of territorial communities, IRF supported civil society's initiatives aiming at legal and organizational empowerment of citizens in order to help them learn and practice self-governance.
Support to the healthcare reform
We all are potential patients; therefore, a quality and accessible healthcare system is everyone's need and right. Last year, with joint efforts of civil society and the Ministry of Healthcare, planning the strategy and implementation of changes began.
With support of the IRF and the Medicine and Law Foundation, the Expert Committee designed Ukraine's first National List of Medicines, based on a new methodology. The National List serves as the foundation for publicly funded procurement of medicines at the national and regional levels.
IRF also supported civic experts that worked together with the Ministry of Healthcare to create a Concept of Reimbursement of Costs of Medicines for three programs of treatment (hypertension, diabetes II, bronchial asthma). Implementation of the reimbursement, approved as the Concept in 2016, began in 2017.
The Kyiv International Institute of Sociology, the Social Indicators Fund, and IRF launched the Health Index. Ukraine, a survey of over 10,000 households about their attitudes to the national health system, patients' behavior and awareness of health risk factors. The project contributes to transforming Ukraine's healthcare system in line with best international practices and based on patients' opinions on the quality and accessibility of healthcare.
Support to the justice sector reform
Having studies the British experience, with support of IRF the National Police of Ukraine launched the Human Rights Department tasked with ensuring that human rights are respected in confinement in temporarily detention facilities.
The new law «On Police» opened opportunities for better protection of citizens' safety. IRF support the introduction of community policing and its «safe community» principles. It means that police will plan its activity based on real surveys and consultations that will identify the people's real safety and security concerns and needs. The approach was piloted in Vinnytsia, Rubizhne, Chernihiv, Kharkiv, Kyiv, Stary Sambir, Trostyanets,Mykolayiv, Kovel, and Kamyanets-Podilsky.
In 2016, the launch of the Online House of Justice opened access to a portal of e-services that made it easy to receive a copy of birth certificate, marriage certificate, name change or another document from the state registry of acts of civil status in just one to two days. This is an example of an IRF-funded project that greatly simplifies citizens' access to public services.
European integration and international partnerships between experts
Three years after the EU-Ukraine Association Agreement was signed and over a year since the inaction of the Deep and Comprehensive Free Trade Agreement (DCFTA), Ukraine still has a lot of commitments to complete in order to bring the quality of governance and public administration to the European standards and move forward on the implementation of the Association Agreement with the EU.
Before the consultative referendum in the Netherlands on the EU-Ukraine Association Agreement IRF supported a number of initiatives aiming at bringing Ukrainian expert and civic voices to the Dutch people.
IRF also continued supporting initiatives aimed at making sure that the challenges to the introduction of the visa-free regime with the EU are properly addressed in order to speed up the final steps of that long-lasting process. It helped CSOs provide public expert comments to statements by politicians, organize public debates before important voting in the Parliament and key international events. With IRF's support, think tanks studied potential migration challenges from Ukraine in case the visa-free regime was introduced. The study was presented in Brussels and Berlin by its authors, experts of the Europe Without Barriers, CEDOS Center, the Reanimation Package of Reforms, and the European Pravda.
The Foundation supported civil society's projects aiming at fostering the energy diplomacy and Ukraine's integration with the EU in the energy sphere. These efforts include drafting Ukraine's Energy Diplomacy Strategy that was addressed to the national government and offered a systemic approach to identifying ways to enhance Ukraine's presence in the regional energy markets. Since the energy diplomacy has a broader impact on the country's overall development beyond the energy sphere, the experts proposed establishing a new institution, a Special Representative of Ukraine for International Energy Issues, an agency to be in charge of coordinating all government departments and key state companies in the implementation of Ukraine's energy policy.
Promoting peace and reintegration of people affected by the occupation of Crimea and the war in the Donbas
The Foundation supported a number of communication and culture projects that help facilitate the conflict de-escalation and engaged young people, artists, and education professionals to dialogue, understanding and collaboration.
With support of IRF in collaboration with other donors and volunteers, over 13,000 participants of the anti-terrorist operation (ATO) and their families received legal advice to help them obtain the combat participant status, social benefits, psychological counseling and assistance to start their own businesses.
IRF's project, Novyi Vidlik (The New Countdown), served as a successful model of a business incubator for internally displaced persons (IDPs) and ATO veterans. With Novyi Vidlik, 440 IDPs, ATO veterans and their family members went through complex business training. 67 received funding for their business start-ups or recovering their businesses, and created new jobs. With the new ventures supported by the program before 2016, the Novyi Vidlik community grew to 150 small businesses.
Protecting human rights
In the time of the war, protection of human rights and justice is even more important than in the time of peace, for the society faces the double challenge of military and civilian violations. Three years into the conflict, Ukrainian authorities have not managed to reform and strengthen the system of justice and human rights protection. Civil society has taken on the massive task to help fill the gaps, and IRF continues to provide the needed support for that.
Activists of the National Preventive Mechanism visited dozens of closed institutions for severely ill patients, as well as prisons, pre-trial temporary detention facilities, and closed psychiatric clinics both in the territory not affected by the conflict and in the ATO zone. The so-called «places of non-freedom» currently keep 1,200 thousand people. The human rights monitoring results have demonstrated grave violations in those settings. To protect the inmates' rights, the findings have been passed on to the Parliament's Commissioner for Human Rights (Ombudsman).
IRF collaborated with civil society organizations and local authorities to introduce pilot custody records for electronic registration of detainees in the Kyiv, Kharkiv and Lviv regions' temporary detention facilities. When introduced, the custody records will bring a tremendous change to the procedure of working with detainees and remove the risks their rights being abused by the police. Electronic records will replace paper books in temporary detention facilities and will provide full real-time access to information about the status of the detainees, including video observation, for the use by the Human Rights Department of the National Police. A new format of informing a detainee of his / her rights at the moment of initial contact with the police will be put in place.
Respect for human dignity in any situation is an unconditional human right. In order to start a broad discussion on the Ukrainian drug policy reform, in January 2016 civic activists, human rights defenders, charities and patients' groups, former police officers and religious organizations joined their efforts within a coalition «With Respect for Human Dignity». The Foundation also continued supporting the development of a system of palliative care in Ukraine, promoting the relevant change in medical practice in accordance with international standards, and training medical staff in providing adequate pain relief. There are over 400,000 palliative patients in Ukraine, including almost 18,000 children.
There is no room for discrimination in a democratic society – neither at one's workplace, nor in healthcare, nor in access to social or legal protection, not in any other sphere, on no grounds. IRF supported the creation of a Ukrainian Corporate Equality Index. The number of participating companies has doubled since the Index was launched in 2015 and reached over 150. The companied participating in the Index for the second time have improved their performance by an average 12 points. The project motivated the business community to improve their anti-discrimination standards and HR performance.
Supporting Roma community's civic activism
For almost 20 years, IRF has been supporting civic initiative that drive positive change in Roma communities, counter discrimination, improve access of Roma to legal aid, education, healthcare, social services, cultural dialogue, and empower a young generation of Roma leaders and activists.
The Coalition of Roma Organizations, International Roma Women's Fund Chirikli and other civic initiatives have enabled the development of local social programs in Kyiv, Kharkiv, Odessa, Transcarpathia, Kropyvnytsky, Volyn, and Zaporizhya regions. These social programs will include provisions that respond to Roma needs in healthcare and social protection for families in need.
The Foundation also contributed to improving Roma children's access to primary education through establishing Centers for Responsible Parenting and a broader cooperation with local education authorities. Those efforts enabled the introduction of a teachers' assistants model in areas that have a high proportion of Roma population. It also supported the introduction of inclusive education practices aimed at preparing Roma children to school.
In 2016, eight teachers' assistants in 7 educational institutions in the Transcarpathia and Odessa regions helped over 80 children attend pre-school training. 18 young Roma activists worked as interns in local self-governance bodies in six regions. Seven young Roma community activists worked as interns in human rights NGOs.
What's next?
With citizens' engagement civic pressure, many reforms have taken root in Ukraine, and IRF will continue supporting them. In this sense today's Ukraine is an example to many countries. We cannot afford the reforms to fail, for that would shut the "window of opportunity" for the civil society of the entire Eurasia region. This is a great responsibility.
If you ask me what lessons Ukraine's active citizens should learn for the country to continue moving forward the way of positive changes, here are three key ones I can name:
Lesson 1: in any uncertain situation keep doing your job well to be ready to propose a solution on time.
Lesson 2: civil society needs to become more demanding and the government more transparent. Democracies become stronger if a strong check-and-balances system is in place. When we make this system as strong as possible, the Ukrainian democracy (and any other democracy too) will be able to repair itself easily if its freedom faces a challenge.
Lesson 3: when it feels like a failure, I call on everyone to keep calm and do your best. The road is made by walking. Ukraine is only at the beginning of the democratic path. Together, we have managed to do a lot but there is still more work ahead.
Yevhen Bystrytsky, Executive Director, International Renaissance Foundation