As of early 2019, 324,113 Ukrainian citizens (258,207 adults and 65,906 children) were in need of palliative care, according to the Ukrainian Center for Social Data, supported by the International Renaissance Foundation. The methodology for needs assessment was developed based on statistical data routinely collected in Ukraine.
Those are the data coming from the State Statistics Service (causes of death), Medical Statistics Center (information on the number of patients with certain diseases), the National Cancer Registry and the National Register of Tuberculosis Patients. For the first time, the data were collected and disaggregated at a level of districts and cities of regional importance in Ukraine.
Estimating the number of patients in need of palliative care is very important for both health care establishments and the National Health Service to plan the necessary resources.
Interactive visual presentation of the research data is available at the link: https://socialdata.org.ua/palliative/
The distribution of patients in need of palliative care by disease groups is as follows: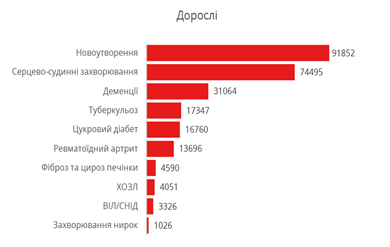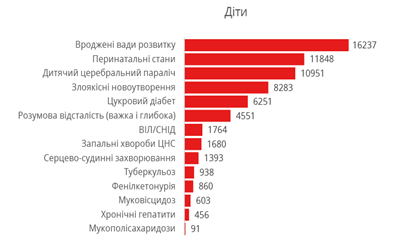 Palliative care is most needed in Dnipropetrovsk region, and least required in Lugansk region (excluding the occupied territories). Most children who need palliative care are in Kyiv, which may be due to the fact that children from all the regions come to the capital city for medical treatment.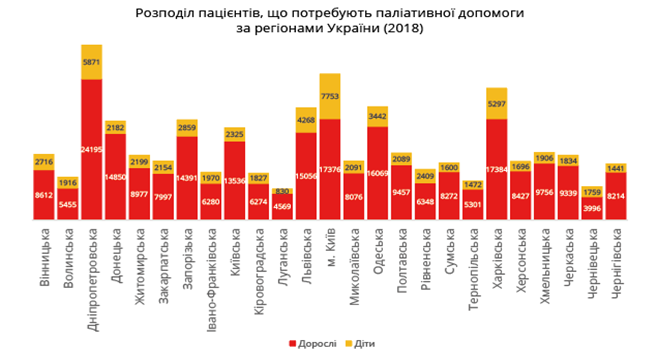 Need in palliative care estimated per 10,000 adults/children can be presented as follows: most need for palliative care, or 1% of population, is observed in Zaporizhia region, whereas the least need is registered in Ivano-Frankivsk region with 0.6% of population. In general, 0.84% of the population in Ukraine needs palliative care.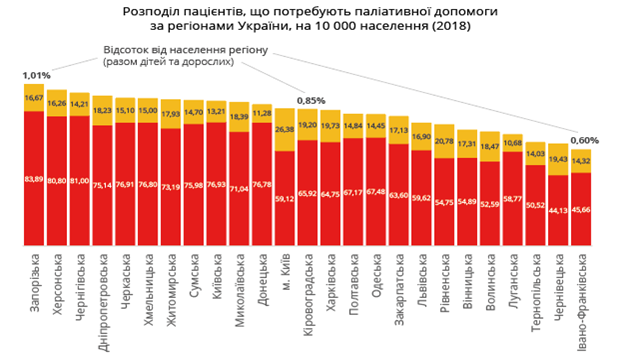 In 2020, the National Health Service for the first time concluded contracts with service providers as regards the following specific services: "Inpatient Palliative Care for Children and Adults" (431 institutions) and "Mobile Palliative Care for Children and Adults" (203 institutions). The total amount of contracts concluded by the National Health Service in the sector of palliative care for 9 months of 2020 amounted to nearly UAH 450 million, covering 66,187 patients in need of palliative care in hospitals and 26,913 patients tended to by mobile teams.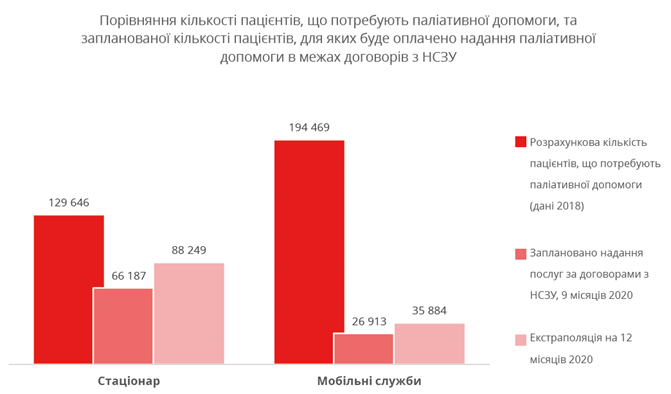 Looking at the bare numbers, one can see that hospitals are contracted significantly more than the optimum ratio for the entire Ukraine, whereas contracts with mobile service providers were virtually half of the minimum need.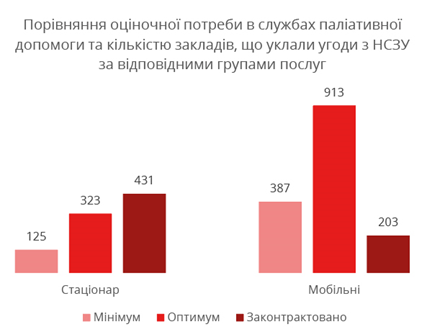 In 316 districts and cities of regional subordination, representing almost half of the territory of Ukraine, no palliative care service provider (mobile or inpatient) has been registered. Of course, that does not mean that the people in need for palliative care cannot get it (at least partially) from service providers from neighboring districts. However, that being said, one has to mention that no palliative care service provider has been contracted in many fairly large cities.
The research data also allow us to estimate to what extent the needs in inpatient and mobile palliative care providers are met across the regions of Ukraine.