On November 28, an international conference "Paralegals in Ukraine" was held at the Unit City in Kyiv.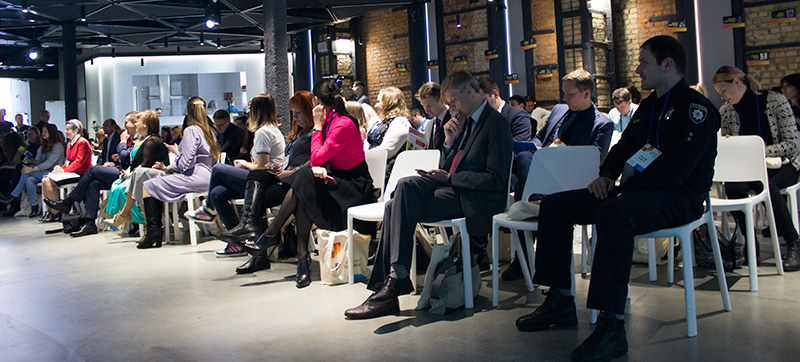 On November 28, an international conference "Paralegals in Ukraine" was held at the Unit City in Kyiv. The conference was attended by Ukrainian and international legal experts, representatives of the Ministry of Justice and the first in Ukraine paralegals. The conference was organized by the International Renaissance Foundation.
Paralegals are the people without law degree who are able to provide basic legal advice on the most common issues in small communities, although not being law faculty graduates. In many countries of the world, it is public councillors (or paralegals, as they may be called in other jurisdictions) who provide "emergency" legal aid to community members through consultations, providing legal information and referring them to lawyers specializing in specific problem issues.
"We conducted a survey and asked citizens who they most often turn to, when they need legal assistance. We found out that those are not private law firms or legal aid centers but their old friends," said Ivanna Smachilo, Deputy Minister of Justice of Ukraine. According to her, much as citizens do not trust the state, it is important that there should be someone out there who they can turn to, without any fear that something bad might happen. "This is exactly the role for which paralegals are the best fit. I am convinced that in a few years we will see emergence of thousands, not just dozens, of paralegals".
In Ukraine, the history of paralegals began back in 2017, when the first training of paralegals was organized by the Coordination Center for Legal Aid Provision with the support of the International Renaissance Foundation. As of today, we have 66 paralegals working in Ukraine, mobilized through three mobilizatiton campaigns. In 2019 new mobilization campaigns and new trainings will be announced.
"The development of legal aid began as a process of creation of individualized, atomized initiatives.It is important that today, in the field of access to justice, there is a certain progress, built on the basis of synergy. We were able to institutionalize this process and involve not only lawyers, but ordinary citizens as well," said Roman Romanov, Human Rights and Justice Program Director of the International Renaissance Foundation. According to him, the institute of paralegals should become a game changer and bring the state closer to the needs of citizens.
"People have such an attitude to law as if it were something not related to their daily life, not corresponding to their daily needs, something invented in Kyiv. Paralegals give an understanding of the fact that law is an integral part of everyday life and it can be used effectively to help citizens solving their daily problems as well as more general problems. The objective of paralegals is to translate the dry and formal legal language into a language understood by citizens, and to raise people's awareness of the law and their rights", – said Romanov.
The conference consisted of five key parts. At the beginning, after the welcome remarks, paralegals told about their activities, the history of paralegals in Ukraine and shared the first success stories with the conference participants. During the second panel, the partners of paralegal community in Ukraine shared their impressions and expectations: Oleksiy Boniuk (Coordination Centre for Free Legal Aid Provision), Yevhen Poltenko (Legal Development Network), Aliona Semykina (Advisor to the Minister of Justice of Ukraine) and Mykola Sioma ( Ukrainian Legal Aid Foundation).
During the third panel, international experts shared their experience in the field of creating and providing services of community advisers. Michael Otto, a representative of the global legal empowerment network stewarded by NAMATI, spoke about international experience of the development of paralegals institution. Nad Normand, a paralegal from Canada, spoke about the work of paralegals in their country, whereas Sonia Osho-Williams from Sierra Leone, Violetta Odagiu from Moldova and Suzana Velkovska from Macedonia shared the experience of work of paralegals in their respective countries.
After lunch the conference participants reviewed two case studies of the work of paralegals in the format of a forum-theater. The last panel of the conference was devoted to working in groups with Ukrainian and international experts, who discussed the following topics: "What is the role of paralegals in the field of access to justice?", "Why do amalgamated territorial communities need paralegals?" and "What is the benefit of paralegals when dealing with vulnerable groups of population?"
The conference ended with the presentation of a legal awareness raising campaign that will be launched along with the initiative "I have the right!", as well as the joint statement by paralegals.
"Paralegals are a team that brings a change. Paralegals, in addition to legal aid, have implemented more than 10 new projects in many fields, ranging from media literacy to public transport development. Paralegals are not only about helping, but also about inspiring others", – summed up a paralegal Konstantin Liganenko.