The International Renaissance Foundation released an analytical study within the framework of the Think Tank Development Initiative
The study in Ukrainian is available at this link.
The study was prepared within the framework of the Think Tank Development Initiative, implemented by the International Renaissance Foundation in partnership with the Open Society Initiative for Europe (OSIFE) with the financial support of the Swedish Embassy in Ukraine.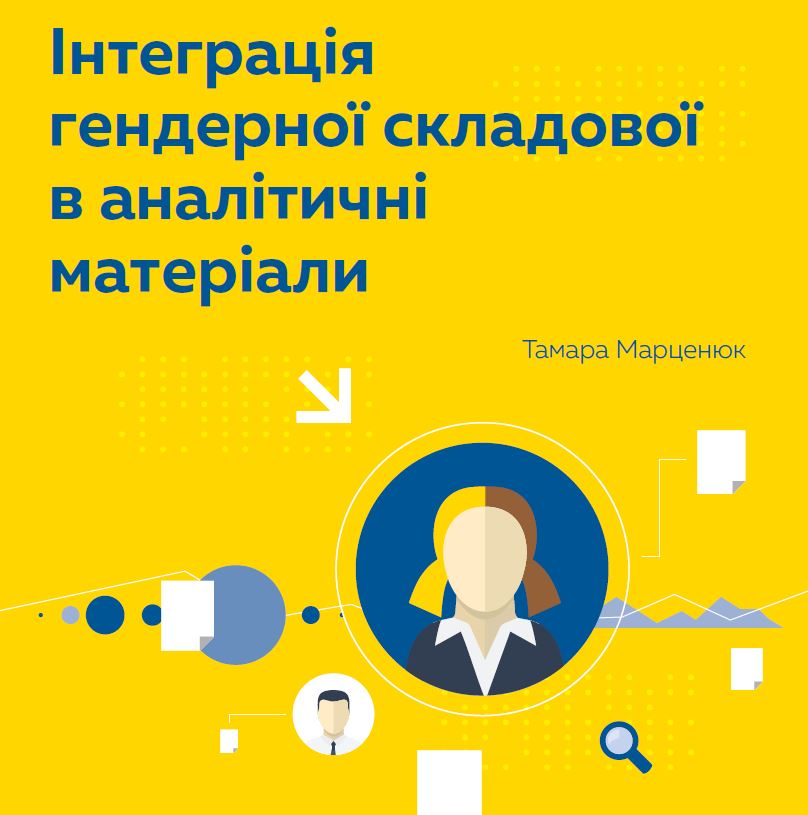 Think tank professionalism can be judged by manifested knowledge and understanding of gender-related and non-discrimination themes, as well as their ability to translate it both in their own activity and in the results of their work (in particular, analytical products). A professional analysis of the situation makes it possible to take into account diverse views and to ensure inclusivity (inclusiveness) of opinions of different social groups, using a sensitive and critical approach at the same time. Think tank experts need to understand the ideas of equal rights and opportunities, specificity of gender analysis and gender prioritization policies, and to take them into account in their analytical work. In Ukraine, gender issues are manifested through multiple dimensions, due to specific nature of various domains of public life. To minimize gender gaps, such issues need to be thoroughly studied based on fundamentally new approaches.
The Ukrainian society is stratified on a number of grounds, including gender, age, social status or class, region of residence, type of settlement, health status, sexual orientation and gender identity, ethnic or national origin, as well as religious affiliation. All the above mentioned attributes are listed in the Law of Ukraine "On Principles of Prevention and Suppression of Discrimination in Ukraine" (2012). The rights of different social groups (regardless of their size) should be respected, and their interests and needs should be properly represented in different spheres of public life, this being the core value of the democratic society.
Addressing gender issues is often started, in fact, when international or domestic donors announce relevant projects. In addition to it, it has to be noted that non-governmental organizations (not think tanks) have recently been reluctant to perform research on their own, but instead seek collaboration with research organizations. This is another opportunity for think tanks to tap into this to use their scientific potential. For example, the research "Agro-industry advance: women and the environment".
"Socio-gender impact of agro-industrial facilities on rural women. Survey Report "(2015) is an example of collaboration between NGOs and educational institutions, in this case, between the National Ecological Center of Ukraine and the Department of Sociology of the National University of Kyiv-Mohyla Academy.
This encourages think tanks to sporadically engage in gender issues. However, such engagement is lacking in sustainability and deep understanding of the subject matter and a serious attitude to it. And although interest in gender mainstreaming is constantly increasing in Ukraine, due to abundance of activities and research projects (which are most often initiated by international donors), gender issues still remain rather marginal at a level of think tanks. Think tanks are not likely to have a particular employee dealing with topics of gender and non-discrimination.
Notwithstanding the above, the trend over the last 25 years has been to include a gender component in development programs and projects and to promote the gender mainstreaming policy. Gender mainstreaming was outlined in the Beijing Platform for Action and formally approved at the Fourth World Conference on Women in Beijing in 1995. It is a globally recognized gender mainstreaming strategy that integrates gender mainstreaming opportunities for women and men in various spheres of public life, including civic activism and analytical products.
In view of the above reflections, a decision was made to develop a guidebook for think tanks on integrating the gender component into analytical materials. This guidebook provides the definitions of the basic concepts of gender, features a gender-based methodology, supplies examples of gender-based studies, and offers a number of recommendations for gender mainstreaming.