In April, the Foundation's Environmental Initiative held a meeting of grantees and partners who relocated their organisations from the eastern and southern regions of Ukraine due to the new phase of Russian aggression. The format of this meeting is difficult to describe with the usual terms such as "discussion" or "brainstorming". Our goal was to bring together people who have similar experiences and pain points in the process of integration into new cities and find common solutions so that host communities do not repeat the mistakes of 2014-2015.
"When it comes to moving entire organisations, and not just individual people, the question of how to use the potential of these people and organisations in a new place arises," said Oleksii Orlovskyi, Director of the Democracy and Good Governance Programme and moderator of the meeting. "We do not know how long this phase of the war will last, whether people will be able and willing to return home after the deoccupation, the victory. That's why we are talking "here and now", coming together to share experiences and best practices that will help IDPs to integrate into new communities and help communities to attract the potential of new residents."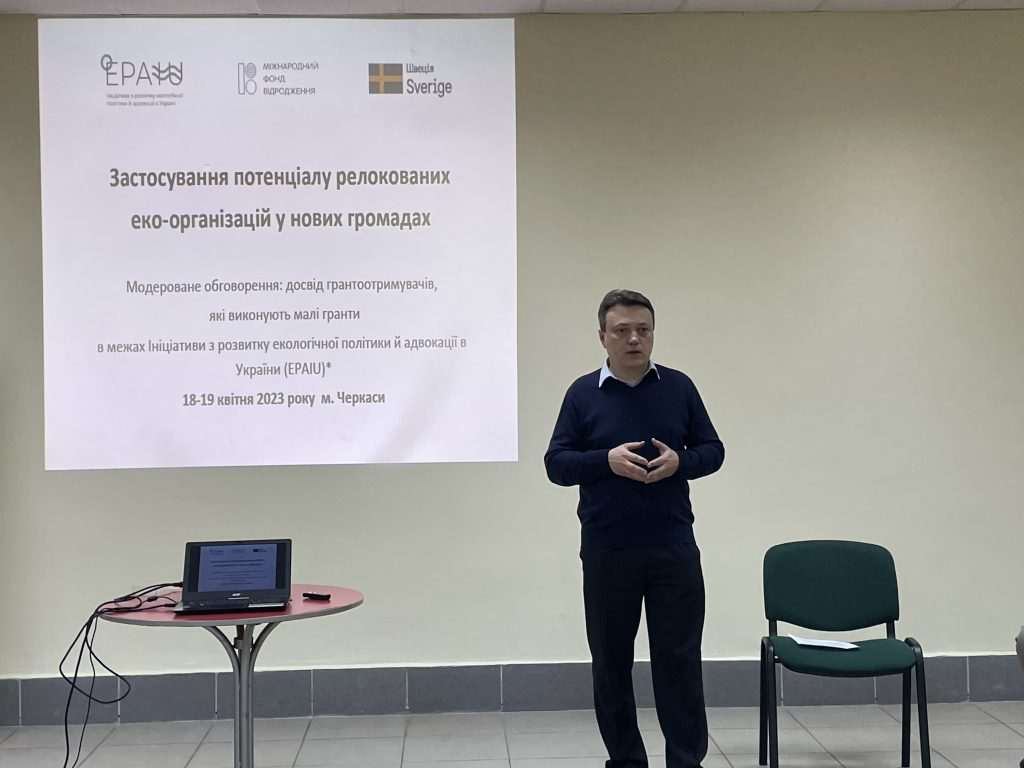 The meeting featured both the organisations that already had the experience of evacuation in 2014 and those that, unfortunately, went through it the first time in 2022. Despite their seemingly different experiences, the organisations face similar challenges, as they are often not heard and perceived as temporary guests or burdens on the new community. How do they change it?
Human capital rather than a burden
At the beginning of the Russian-Ukrainian war in 2014, the lion's share of proactive and conscious citizens of Ukraine left the temporarily occupied territories due to Russian aggression. The majority remained in the east of the country, in the territories under the control of the Ukrainian government. However, the IDPs had to start life anew in a new place, and so Bakhmut, Sievierodonetsk, Kramatorsk, Kreminna, Dobropillia and other cities of the Donbas region became their new home. The first wave of assistance to these people was humanitarian aid that included clothing, food, medicines, temporary housing and basic necessities. Thousands of Ukrainians collected and handed over everything that internally displaced persons urgently needed, international and Ukrainian donors opened emergency support programmes, and Ukraine discovered the meaning of the abbreviation "IDP".
In 2022, many of these people had to leave their homes for the second time. Many began collecting humanitarian aid and distributing it in their communities, organising evacuation while it was still possible. Nova Druzhkivka and Dobro turned their offices in Druzhkivka and Dobropilla into points of distribution of humanitarian aid, while the team of the Sievierodonetsk-based Prostir Foundation had sent evacuation buses until they had to leave the city themselves. They kept providing humanitarian aid at the new location. For instance, a humanitarian point is still operating at the new office of the Bakhmut-based Revival and Development Association that was relocated to Cherkasy.
Moreover, the activists went further, because they knew that they could be useful in new communities and in other ways. According to Volodymyr Oros of Dobro, after the forced move to Odesa and the period of adaptation, his colleagues began to build their contacts among local activists, looking for ways to cooperate with them and the community of the city. "We wanted to be useful and not burden the communities. A lot of work has been done to move from humanitarian aid to some more permanent initiatives that will not burden communities but create added value for them. We wanted them to see that we are an additional resource rather than a problem; additional human capital rather than a burden," said Mr Oros.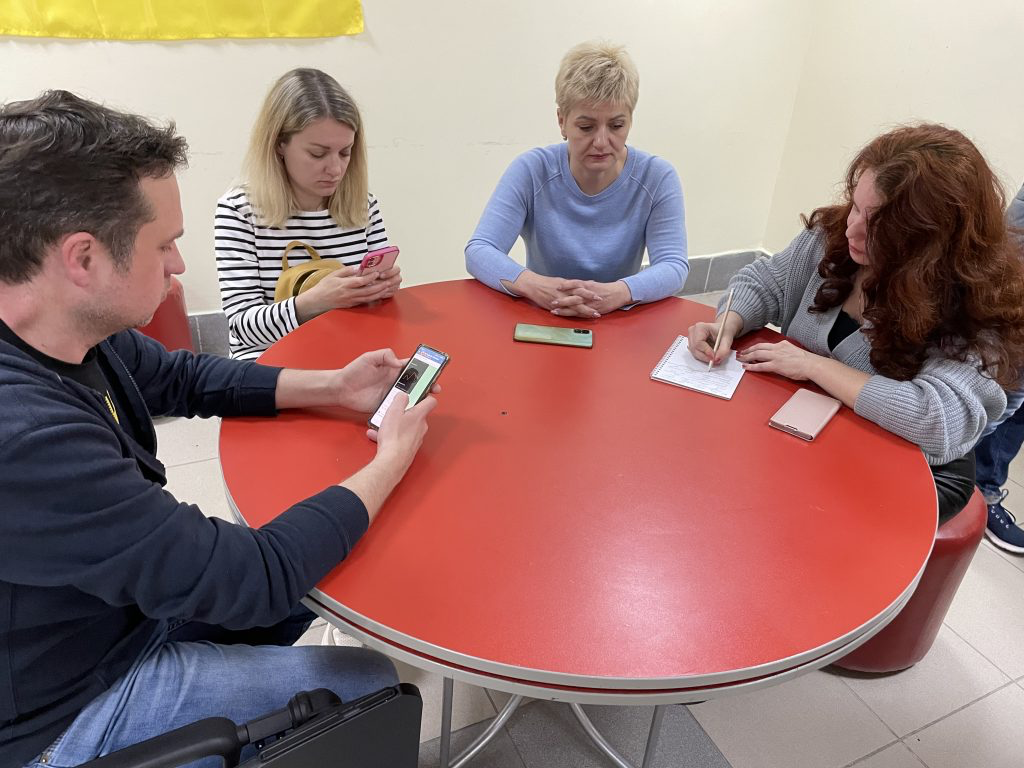 Tetiana Kirillova, Head of the Luhansk regional organisation "All-Ukrainian Association for the Promotion of Self-Organisation of the Population", is in agreement. "IDPs are often perceived as a problem or a burden. The sooner this attitude changes, the more parties will win from partnership and cooperation. Sure, we lost our home, but we didn't lose our skills. We pay taxes, we care about local problems and we want to get involved in solving them. Because this is our home as well now," said Ms Kirillova.
Indeed, public activists would not be activists if, after the adaptation period, they did not plunge into the thick of it, be it environmental protection, implementation of the decentralisation reform or other efforts that help build an open society in Ukraine. Their existing experience helped them to get involved almost immediately after moving, to establish contact with local authorities and new neighbours in Cherkasy, Kalush, Khmelnytskyi, Rivne, Kyiv, Odesa, Drohobych, Kropyvnytskyi and other cities. Because they know that the sooner the community begins to actively integrate the new city residents, the easier it will be economically.
"IDPs burden the community only when the community does not attempt to understand the needs of new residents and involve them in life in the community," explained Olena Holovkina, Head of the Revival and Development Association. "The sooner integration initiatives are introduced, the sooner the community will escape the humanitarian aid pit, and the less likely it will be to segregate into 'us' and 'them'."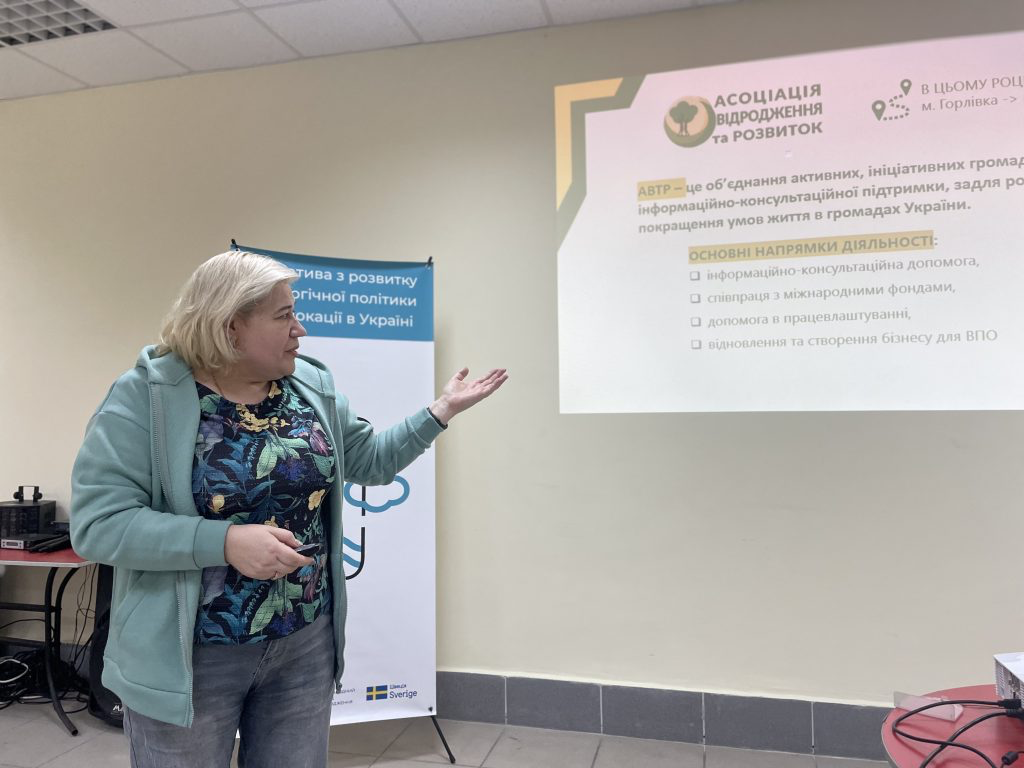 About new ideas and experience
In addition to discussing the problems that relocated organisations are currently facing, the participants of the meeting presented their cases of proactive cooperation with local authorities and communities through environmental initiatives.
On the face of it, it may seem that the issue of environmental protection is not a topic relevant to host communities in wartime. However, Tetiana Kukharenko, Head of the EPAIU Initiative, believes that this is not the case. "Environmental problems are, unfortunately, a shared reality of Ukrainian cities and villages," she said. "The problems may vary in form, but their existence and impact on the safe and comfortable life of communities are relevant both for large cities in central Ukraine and for small towns and villages of the southern and eastern regions. Environmental problems remain relevant even during the war as hostilities do not put climate change on hold. On the contrary, environmental pollution and problems from it only increase."
Grantees of the Initiative understand this. Some started to communicate with the local authorities in advance with concrete proposals for cooperation. For example, Serhii Pronkin, Head of Nova Druzhkivka, which relocated to Kropyvnytskyi in November 2022, said that he had started looking for opportunities even before the move. "At the end of the summer of 2022, the Donetsk regional administration began a mandatory evacuation from Druzhkivka and announced that the Kirovohrad region would host IDPs. I started looking for information about municipalities that accept IDPs even before we moved and wrote several letters with proposals for various initiatives and projects that we could already implement. The four municipalities that responded are our partners today, and we set up our school of eco-activism there."
Other organisations got involved immediately after the move: some held "eco-tolokas" in parks, involving locals; some contacted community leaders with proposals; some were looking for contacts of local activists, ready to listen to the problems that they were trying to solve in their town. The participants of the meeting referenced many ways to build communication, and each of them explained with their own example how a proactive and caring attitude and experience could help in this.
At the meeting, the team of Impact Centre SHID.SUA presented their case of how a proactive approach and experience can produce results. Before the full-scale invasion, the organisation was developing the environmental profile of the Rubizhne urban municipality, Sievierodonetsk district, also with the support of the Foundation's Environmental Initiative. However, as of now, the city is occupied by the Russians, so their development could not be integrated into local policies. Instead, the team decided to use the experience of such research in Kalush, where it relocated from Sievierodonetsk in 2022. "According to our analysis, Rubizhne has a lot in common with the municipality of Kalush. These are former chemical giants in the post-industrial era, when the industrial heyday is long gone, but the enterprises still affect the community in many different ways," said Serhii Kudriavtsev, a researcher at the organisation.
In addition to wanting to do something useful for the host community, it was important for the team to implement this project on a symbolic level as well. After the death of Andrii Zhydkov, founder and head of the organisation, at the front lines, it became a matter of principle for the team to finish the case. On June 21, the organisation presented to the general public its project and the finished environmental profile of Kalush, which had been developed over six months, in cooperation with local authorities and city residents and with the support of our Initiative.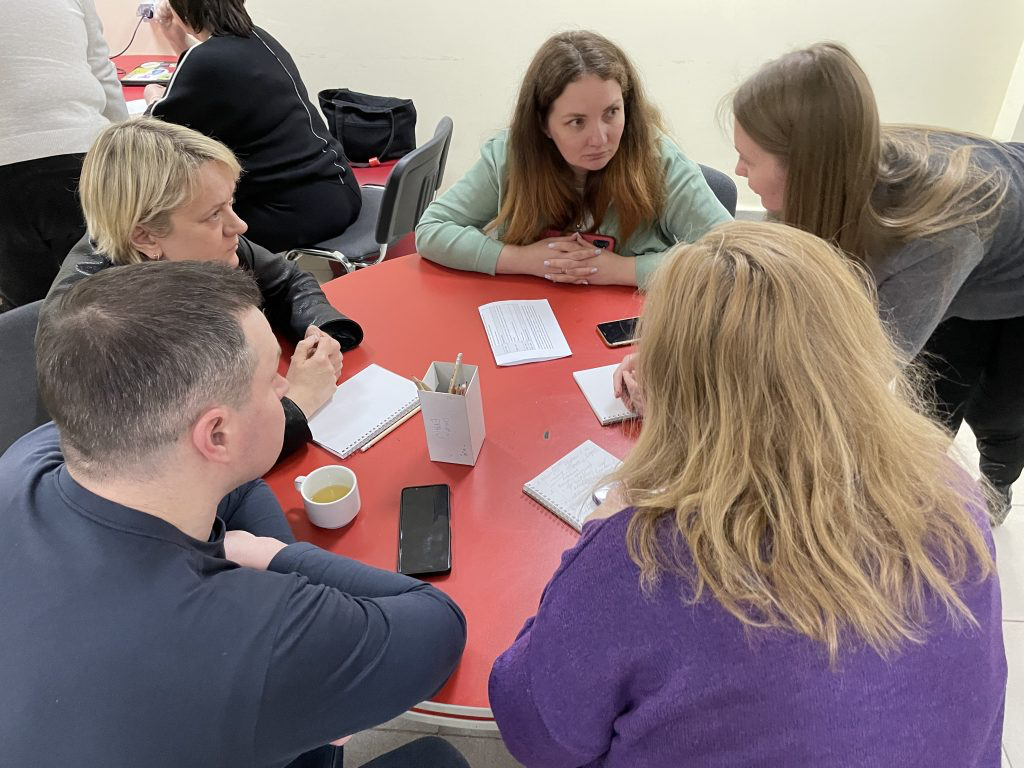 But not all organisations were lucky enough to find common ground with their community so quickly. The challenge most participants noted was working on trust. Environment action where everyone knows you, where you have symbolic capital and credit of trust, is usually easier than in a new place. Some host communities were not immediately cooperative. This was especially noticeable in small towns and villages, where people are wary of new arrivals and their proposals to change something. However, the participants of our meeting see this challenge as a valuable experience that taught them to build communication in a different way: listen more, research more and instead of looking for allies among like-minded people and "their own", work with new people and turn them into allies. "The main thing is not to give up, to knock on doors and try again. Then there will be like-minded people and allies. There are always things to be done and everywhere," said Olena Savchenko of the Kramatorsk-based Women and Children with Disabilities of Northern Donbas, which had to relocate to Ivano-Frankivsk.
According to Liudmyla Protsenko, Public Outreach Coordinator (Regional Representation Office of the Commissioner of the Verkhovna Rada of Ukraine for Human Rights in the Cherkasy Region), who was invited to the meeting, such a problem does exist, but instead of treating the new residents with caution, communities should do the opposite and listen to them. "It is vital that IDPs see local problems differently, from a new perspective. And they are not silent; they talk about what they notice in a different way and offer their efforts, new approaches and solutions," said Ms Protsenko.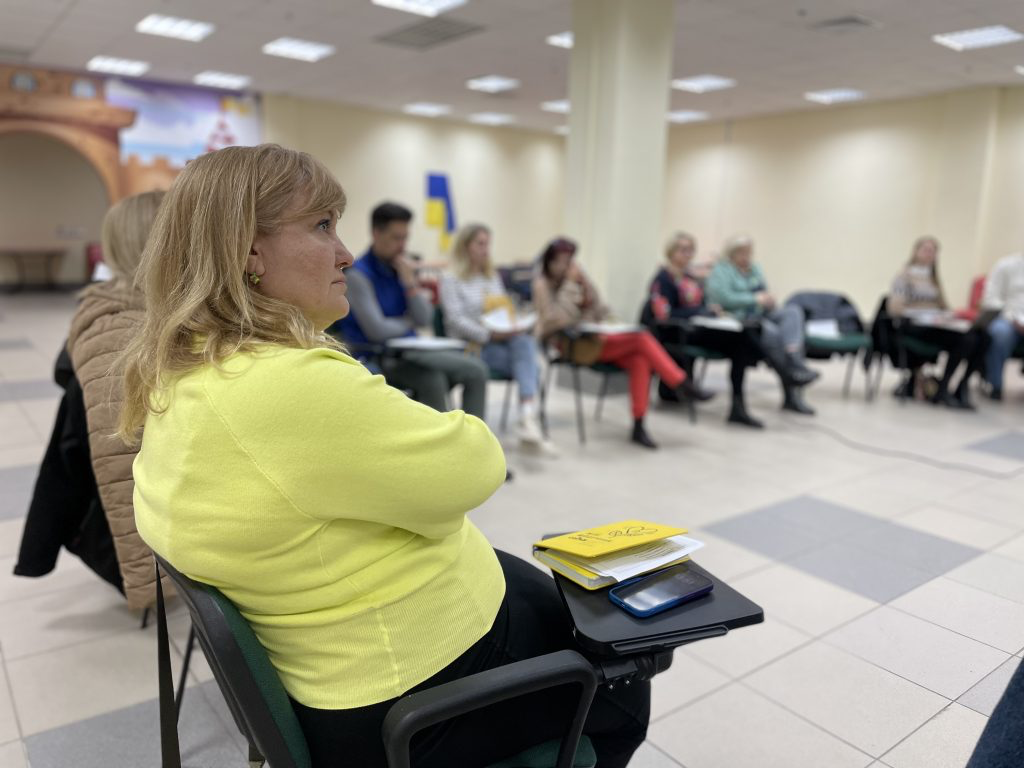 An example of this is the work of Bery and Slav, an organisation that relocated from Beryslav, Kherson region, to Drohobych and established a connection with the local lyceum. Having experience working with children and observing the problems in the city, they developed a new project to help them do something for the benefit of their host community. Now their partner school has a sorting station, and students of this school are offered interesting lectures, educational workshops, film screenings, etc., organised by Bery and Slav. The team implemented youth-oriented initiatives before, so it knows how to work with children and teenagers. In February, they ran a contest for them to encourage them to create environmental content. It is clear that this cooperation did not come out of nowhere: the team first needed to listen to local problems and understand people's needs. But the results are worth it.
Another challenge faced by the participants of our meeting is the lack of understanding of the terms of their stay in a new place. Both the IDPs themselves and the host communities lacked an understanding of how long this situation would last and what to expect next. However, no one can give a clear answer, as some territories will still require demining after liberation, some will need their infrastructure restored, and some are awaiting actual liberation from temporary occupation. "We cannot plan a reference point before returning, but we definitely want to go home," said Natalia Starodubets of Bery and Slav's team. "For now, however, we are working where it is safe, where we are needed and effective. And this is the best we can do now."
Remembering where you are from
Integration into new communities does not mean losing ties with your hometown. All participants of our meeting noted that, despite everything, they want to return home. For some it is a matter of time, for others it is a matter of resources and opportunities. Everyone can keep in touch with home in different ways, but we want to tell the example of the team of the Educational Laboratory for Countering Biothreats from Kreminna, a city that is currently occupied by Russian invaders. On July 12, Kreminna was supposed to celebrate its City Day. However, most of the residents were scattered throughout Ukraine or were abroad. The team decided to hold a flash mob in order to unite those who were forced to leave their hometown on this important and festive day for the people of Kreminna. So they suggested that every resident of Kreminna take a photo with the coat of arms of the city (on a T-shirt, a mug, a piece of paper with the inscription and symbols of the city, a photo with the Kreminna landscape, etc.) and post it on their page in social media with the hashtag #kreminna_we_are_with_you.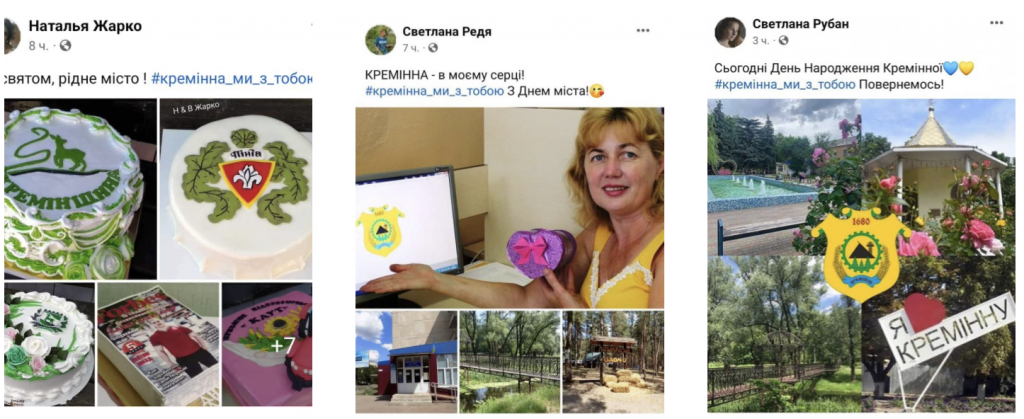 "It's painful because today we didn't gather in the central square of the city, we didn't hold a loud concert for the people of Kreminna, we didn't buy sweets and balloons for children, we didn't launch rides. There are no songs, dances and fireworks to celebrate you… We were forced to leave, to save the children. But today, more than ever, we all feel like part of a big family! We miss you, but we know we will be back!
This evil tragedy will soon be over, and we will still walk along the central avenue, sit on the bank of the river. The community will heal to be fully-functional again; we will lift up our hometown and dress it in a vyshyvanka! Laughter will be heard on every street, and every house ill light up with happiness! We swear it," the participants of the flash mob wrote on their pages.
In addition, in Rivne that temporarily hosts the Kreminna City Military Administration, a ceremony was held to celebrate Kreminna and award diplomas to graduates of the years 9 and 11 of educational institutions of the Kreminna urban municipality. Representatives of relocated NGOs, including the team of the Educational Laboratory for Countering Biothreats, attended the event.
What would we do differently?
We started the second day of the meeting with a question that we asked all the participants, What would you do differently if you already had your experience at the beginning of a full-scale invasion? Divided into groups, they gave an assessment of the context, their weaknesses and strong points of communication and the experience they already have.
The first group noted that a more active information campaign and more active communication with the residents of the community in general would contribute to reducing the tension between them and the new residents. "We should explain to the communities what we will do and clearly present the results and positive effects of our projects," explains Yana Bilous, Researcher at Impact Centre SHID.UA.
The second group noted the positive experience of other organisations and believes that it would also be beneficial to work more with young people and involve them in initiatives in new places. After all, in many communities, long-term environmental problems remain unaddressed because there is no one to tackle them — low environmental awareness simply does not contribute to public participation in such initiatives. And this is something that should be fostered from childhood in order to form a sense of responsibility for the environment in a person, in particular for the surrounding environment.
The participants who formed the third group pointed out that they could become a source of important and vital knowledge for the host communities in wartime. "The sense of threats and risks is dulled in the front-line communities, and this is a problem. We should rethink personal safety from the perspective of each specific person and be at the forefront of protecting people, especially children, in times of danger, through our personal responsibility and awareness," said Olena Holovkina.
The fourth group looked at what they would have done differently from an organisational point of view. "The impact of small NGOs is really small. Why not unite in alliances or associations? Promoting our ideas to donors together, implementing them together would help attract more resources and carry out 'more expensive' but larger-scale projects," summed up the members of the group.
***
Obviously, we would like no one to have to experience relocation due to war. Obviously, we would be happy to hold meetings of our grantees on other topics. But in the conditions that we have found ourselves in due to Russian aggression, we should also look for points for growth and changes that can be useful in the future.
Based on the example of our grantees, we see that when entering new communities, organisations should, first and foremost, listen, look and analyse. They should look for like-minded people, partners and resources for their activities. This preparatory, integration stage will allow a better understanding of local problems and needs of the community. It is important to develop a strategic vision of this process in order to find common ground with the authorities and the community itself in the long term.
It was also reaffirmed that the experience organisations gain from working at home doesn't disappear after the move. This experience, if actively offered, can be a tool for the community to see the potential of new residents. And environmental problems are everywhere — in big cities with a population of a million, industrial cities, small towns in the west of the country and villages in the south. As Tetiana Kukharenko said, these problems are a "common ground" for Ukrainian cities, towns and villages. Therefore, the experience that the organisation gained in solving problems in the east definitely can be applied in the west and in the north of the country.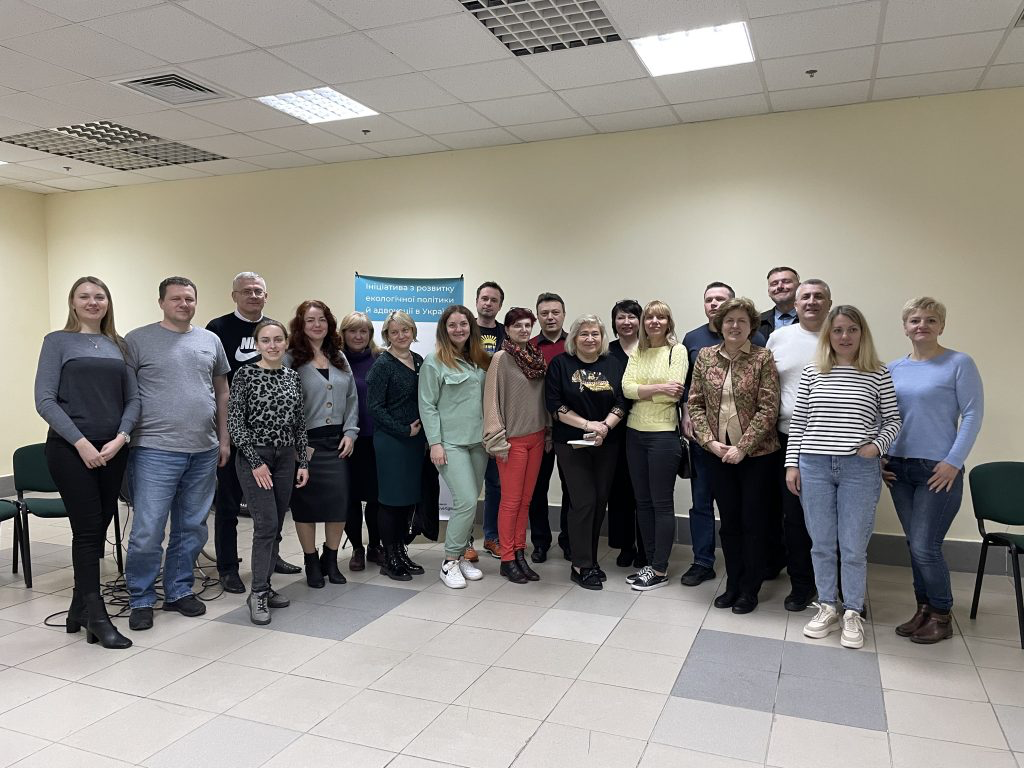 Yet in order to find "common ground", proactive communication with the community and other stakeholders is required: talk about yourself, inform about your intentions and achievements, share your experience and work results. The more they know about you, the more they will trust you. This will strengthen not only the potential of the organisation itself, but also the perception of the new residents in general as a proactive and interested community that wants to give back the help it has received.
We do not know how long this phase of the war will last. We also do not know whether it will be the last. So the experience that our grantees gained back in 2014 and now, in 2022, is relevant to other organisations.
***
The material was created as part of the International Renaissance Foundation's Environmental Policy and Advocacy Initiative for Ukraine (EPAIU) with support from Sweden. The material reflects the position of the International Renaissance Foundation and does not necessarily reflect the position of Sweden.