REGIONAL PROGRAMS ANALYSIS: HOW AND WHY?
08 February 2017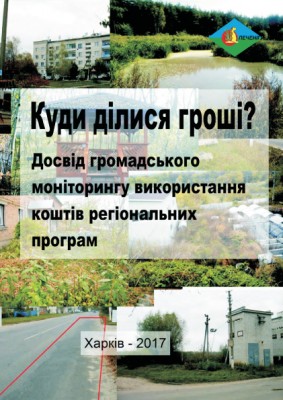 In terms of the declared state decentralization reform, an important tool for community development is various state regional programs. However, their implementation is usually not very effective. And most community members do not always have enough knowledge and experience to understand where the money that would have to improve their welfare, has gone.
Environmental group "Pechenegs" carrying out the project "From analysis to overcome: the creation of a public anti-corruption network" tried to change the situation – they analyzed the implementation of regional programs in Kharkiv and Donetsk regions, and also developed a guide for activists who were engaged in solving local problems. In particular, they examined the setting out and implementation of 37 programs - the majority of regional and local government programs that were implemented in the regions in 2013-2015 and reviewed the actual implementation of 17 events out of 14 programs.
According to the Law On state target programs, a regional program should be:
- Relevant,
- With measurable results,
- Comply the layout.
And according to the Procedure for the development and implementation of programs, the program must have the sections:
- The purpose of the program,
- Ways and means of solving problems,
- Tasks and activities,
- The expected results, the effectiveness of the program,
- The amount and sources of funding.
So, if at the setting out of the program, these requirements are met, the possibility of corruption during its implementation is reduced to a minimum.
Activists sought to analyze the data using:
State web portal E-data;
sites of state authorities responsible for implementation, that should have program passports and where final reports should be published on;
and they also used the information requests' tool under the Law on Access to Public Information.
The analysis showed that most programs do not contain quantify estimation of the implementation results; usually they have no events' justification, in addition, there are events which were not foresaw by the program; they remain nontransparent financially.
Data within the project, and its "Where is the money?" in particular, where analysis tools of regional programs are shown on particular examples, can be useful for active citizens of other regions who care how the budget money is used, and who care about the development of their communities.
The "From analysis to overcome: creation of public anti-corruption network" project implemented within the International Renaissance Foundation's grant - "Public action against corruption. Grant for the Eastern region."
comments powered by

Disqus