"Enjoy your performance", - says Oleg Sentsov on the premiere of his play "Numbers"
10 December 2018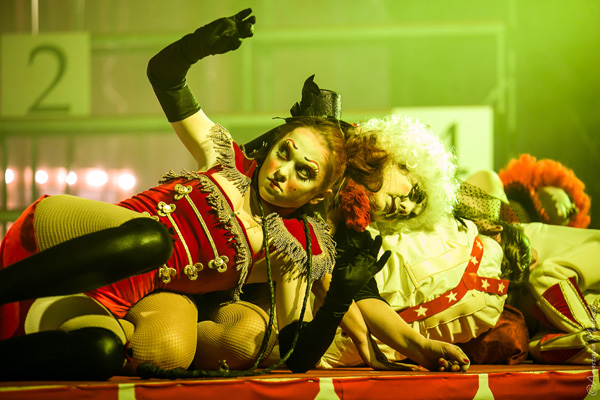 Oleg Sentsov, a Ukrainian film director, screenwriter and writer, unfairly sentenced in Russia in 2015 to 20 years of imprisonment for terrorism charges, addressed the viewers of his play with the words of thank you. The play was staged by the 435 FILMS company and directed by the director Tamara Trunova, a Ukrainian director, a laureate of many theatre contests, who is currently working in the Drama and Comedy Theater on the left bank of the Dnieper river in Kyiv.
The producer of the play is Anna Palenchuk, whom Oleg Sentsov addressed with a proposal to stage a play in the theater. Oleg began writing the play before his conviction, back in 2011, and continued to work on it when in captivity, in Lefortovo.
On November 27, 28 and 29 in Kiev, a pre-premiere of the play "Numbers" was shown, based on the script by Oleg Sentsov, with more than 1000 spectactors watching the play. Among the viewers there were representatives of the diplomatic corps of Ukraine, the First Lady of Ukraine, the Presidential Commissioner for Human Rights, Ambassadors from different countries, the Ministry of Foreign Affairs employees, families of political prisoners, and representatives of the Crimean Diaspora. The creation of the play was supported by the Ukrainian Cultural Foundation and the International Renaissance Foundation.
In the opinion of Anna Palenchuk, the play producer, after the hunger strike, Sentsov basically disappeared from the Ukrainian information space. "This performance is a way to remind about the Ukrainian political prisoners who are in prisons today in Russia and the annexed Crimea. I am sure that now, showing his play, we bring the question about him and his creative personality to the spotlight again, getting the message across that it is impossible to close creativity behind the bars,"- says Anna.
The storyline of the play is a circus troupe, whose leader becomes a despotic character, which transforms the creative circus process into a system of laws and rules, and assigns a number to each member of the troupe. The spectators have in front of them a micro-model of the society, which gradually loses the ability to the critical thinking. And every spectator can make their own conclusion what comes out of it…
The play is staged in Ukrainian using multimedia technologies. About 200 actors participated in the open casting to obtain the role in the "Numbers", and each of them has its own mission and its number in the production. The main message of the play is how each human being can overcome their inner slavery.
comments powered by

Disqus