Inclusion is a desire to understand people around, as discussed at INED-2018
11 December 2018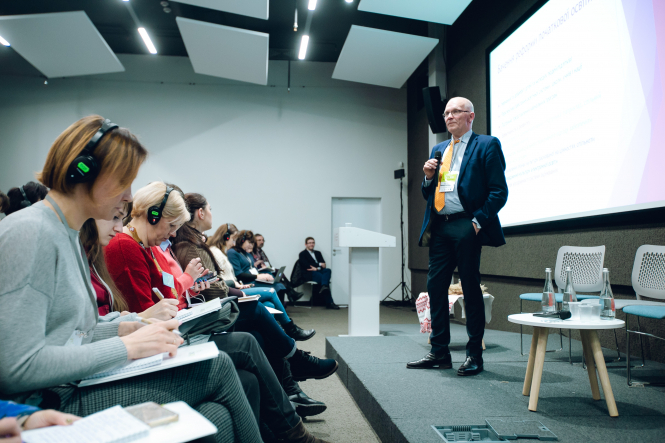 More than 200 teachers, school principals, digital technology experts, managers of successful social and cultural projects, and heads of inclusive institutions from 17 regions of Ukraine participated in the Innovation Education Forum INED 2018, which took place on November 23-24, 2018 at the Sheptytsky Center at the Ukrainian Catholic University. The event was highlighted in the report prepared by Ipress.ua.
The first day of the Forum began with field visits to public and private schools in Lviv, which are already implementing the innovations of the "New Ukrainian School" program. The second day of the Forum was spent in the panel discussion and workshops facilitated by Ukrainian and foreign experts, who spoke about innovative teaching methods and technologies, new approaches to managing education institutions, challenges and opportunities for the development of inclusive education in Ukraine.
As the organizers said, the main purpose of such forums is the emergence of new educational projects, echxange of new ideas and practices, sharing the experience and reflections, communication and motivating the participants to pursue their inner transformation.
"School management and technology shall serve both a student and a teacher, and shall contribute to the realization of the potential of each child. For me personally, inclusion is a desire to understand people around, a desire to look at everyone first as a human being, and only then as a person with individual characteristics. Inclusion is about the ability to forgive yourself and others for being different, and about the ability to talk 'from one heart to another heart'. It is important to learn how to discern talents in other people, and all people do have talents ", - said Olga Matiychuk, one of the Forum's organizers, Educational Initiatives Space project manager of the Ukrainian Catholic University.
This year, the Forum was devoted to three main areas: innovative teaching methods and technologies, challenges and opportunities for the development of inclusive education in Ukraine, and new approaches to managing educational institutions.
"Before we organized the Forum, we all thought about what our main message should be. What is it, the school of the 21st century? Our answer is: the school of the 21st century is an innovative school based on modern technologies utilized in the teaching process. This is a school whose leadership encourages, initiates and supports positive changes, and, of course, this is a school that is open to anybody! The best reward for your efforts is when you see that other people need the things which you are doing. This year we had more than 400 registration applications, we saw abundant energy and excitement in the eyes of the participants, and therefore we believe, that starting from Monday, each of them will come to their schools filled with enthusiasm and all the good ideas for a change"- said Oleksandra Sendriy, the Forum co-organizer, head of smart services and communications department of the IT directorate in Lviv city council.
Among the foreign speakers of the event were Eyal Bloch, a professor, social architect and educational entrepreneur, chairman and co-founder of TOP Global, co-founder of the Sustainable Development Institute in Jerusalem; Sylvia Stiglitz, a Ph.D., director of the Department of Social Development of the Institute for Sustainable Development of the David Yellin College in Jerusalem; Marie-Louise Stoll-Stefan, an education expert, having more than 16 years of experience as a school principal in Germany, Italy, Switzerland, a founder of "School of Life LLC"; Ari Pocca, a Finnish education expert, author of a book "Higher Class: School Management Finnish style".
Experts from Israel said that we can lean a lot from people with disabilities, they are able to change ourselves. First of all, as they say, we need to change an educational paradigm: to shift from "teaching about something" to "teaching students together with people with disabilities".
"The best experts in inclusive education are the people with disabilities themselves, since they live round the clock with their problems, seven days a week. They are true experts from life, not experts from books, whereas experts are studying these problems seven times a week eight hours per day. Therefore it is so important to learn together with people with disabilities. This will change the educational paradigm and a model of the relationship between the society and people with disabilities", said Eyal Bloch.
"In Finland we talk a lot about involving children in the creation of the school culture. Children are active players, and not just students. That would be a too narrow approach. Instead they are involved in creating an atmosphere in which everyone has a personal goal. A role of each student is not to perform home assignments, but to develop their own creativity. A school should become a platform for social interaction and encourage children not to stay inside of the school walls, but contact with other educational environments,"says Ari Pocca. Teachers will have to become their own school managers and understand the goal they are heading to, says Marie-Louise Stoll-Stefan.
"In Germany, it is important not so much to achieve certain standards in acquiring knowledge, but to stress the importance of acquiring certain competencies. This is a shift in the approach: from the traditional assimilation of information to the strategy of forming such qualities as the ability to present, the ability to work in a team, to create and communicate with each other. A teacher is not just a repeater of information, but a good manager who can organize a team of children, motivate them and help them develop their potential, "- said Marie-Louise Stoll-Stefan.
Within the framework of the event, the participants exchanged lifehacks of effective teaching, learned how to create a brand of the educational institution, how to develop the teaching staff using the examples of the leading IT companies. The Forum participants also discussed how to develop emotional intelligence and stress resistance, how to organize the activities of inclusive resource centers and to prepare teachers and assistants to work in inclusive classes; how to create an effective team and manage the school based on democratic principles; how to use educational applications, interactive models, video content, 3D modeling in the educational process and how to implement STEM-projects.
During the panel discussion some important points were made:
-Professionalism should be based on values and respect for human dignity. Innovative technologies are just a tool to help us to achieve our goal, but the core of everything is a human being and a human soul.
-Effective educational system is based on a teacher's maximal dedication, empathy and understanding of a student. No information technology will help if a teacher is not motivated to teach.
-We must switch to a value-based society, shifting the focus from the material to spiritual values.
-You need not only to promote values, but to adhere to them. Children learn not from what you say, but from what you do, taking over your style of behavior.
-For children it is important to reinforce what works well and not to force a child to do what does not work well. It is important to guide a child starting from the 5th grade to develop their talents in the direction for which he or she has the most abilities.
The Forum's general partner is the International Renaissance Foundation.
The Innovation Education Forum INED has been organized in the Ukrainian Catholic University for the second year in a row. We might expect that the Forum will turn into an annual event format so that educators get a chance to inspire each other with their success stories, to get an inspiration from the ideas of experts, and to create networks for joint plans implementation.
comments powered by

Disqus