Democratic Practice
The goal of the program
is to create effective tools to combat corruption and increase government accountability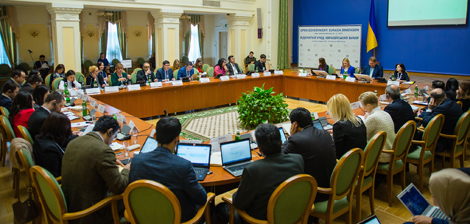 Public agenda for a new country
IRF supports independent experts and think tanks working on priority reforms for the new Ukrainian government
Support of think tanks
The International Renaissance Foundation implements the think tank support initiative in collaboration with the OSF Think Tank Fund, which receives support from the Swedish International Development Cooperation Agency (SIDA). Its aim is to increase the role of think tanks, their transparency and level of trust during the government decision-making process by strengthening their institutional capacity and ability to produce quality research and recommendations.
Fighting corruption
The program initiative supports changes to laws on conflict of interest in the public sphere, advocates their adoption and public control over their implementation. We want to make government revenues and spending, as well as that of civil servants, as open as possible. We support the desire of the public to have free access to all public registers in order to more effectively fight conflict of interest and make government revenues and the personal incomes of government officials more controlled.
Investigative journalism
The program initiative supports investigative journalism agencies because they are the most effective tool civil society has in combating corruption and gaining open access to socially important information.
Contacts
Mariana Magomedova
Democratic Practice Program Coordinator
(+380 44) 461 95 00