International Conference "Inclusion for All: Education Policy and Practice"
30 November 2017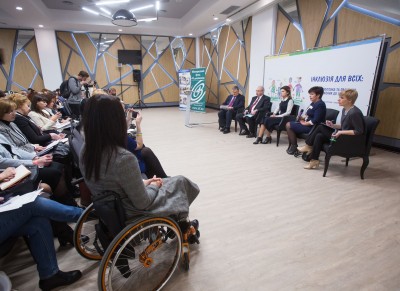 On 30 November - 1 December the International Conference "Inclusion for All: Educational Policy and Practice" brought together international and Ukrainian experts on inclusive education as well as government officials.
In light of the ongoing education reform in Ukraine and a qualitatively new definition of "special educational needs" in the Law of Ukraine "On Education", almost 200 conference participants discussed inclusion as a guarantee of the right of every child to quality education.
Inclusion is about bringing every child in one single educational process. By every child, we also mean children who are Roma, internally displaced, with disabilities, migrants, refugees or with any other manifestation of diversity. At this conference, participants will focus on additional educational needs for all children.
"Inclusion is not just about access, it is also about quality", explains Yevhen Bystrytsky, executive director of the International Renaissance Foundation. He continues: "having everyone in school does not automatically mean that every child's right to education is respected. Proper inclusive policies in Ukraine need to ensure that all children have access to quality education. This means that the general education and the inclusive education reforms, which are interconnected, should both ensure that teachers promote inclusivity and diversity in their classrooms."
According to the State Statistics Service of Ukraine, there are about 6.5 million of children of pre-primary, primary and lower secondary school age in the country (excluding those living on the territory of the temporarily occupied Crimea). Education is a human right for every one of them. However, too many remain excluded from quality, inclusive educational services. Many of the excluded children who are socially disadvantaged face discrimination due to gender, ethnic origin, or disability.
"Today we have a very important and a vital task to raise a new generation of Ukrainians, for whom inclusion will become a part of their worldview and the new perseption of children with additional educational needs that are in our society," said Marina Poroshenko, head of the Poroshenko Charitable Foundation.
"Inclusive education is the right of every child to receive high-quality educational and other services at the place of their residence and, accordingly, the duty of the state is to provide them. Inclusive education has also a number of benefits for all of those participating in the educational process: children, parents, teachers but also the society as a whole", explains the director of the Ukrainian Step by Step Foundation Natalia Sofiy.
A representative of the National Assembly of People with Disabilities in Ukraine, one of the key speakers of the conference, Larysa Baida, emphasized that inclusion is a social value. "For me, she says, inclusive education means that we are developing the potential of every child."
The conference was organized by the International Renaissance Foundation, the Open Society Foundations Program for Early Development, Education and Human Rights and the All-Ukrainian Foundation "Step by Step".
To interview experts in the field, please contact the International Renaissance Foundation at: pr@irf.kiev.ua.
Photo: Presidential Administration of Ukraine
comments powered by

Disqus